The mullet haircut has meant many different things. In the '70s it meant you were a cool rocker such as David Bowie or Paul McCartney. In the '80s it was the preferred haircut for hockey players and baseball dirtbags. The hairstyle also has a rich association with Southern culture and country music.
The mullet fell out of fashion in the mid-'90s when the flamboyant business in the front, party in the back hairstyle began to be seen as the epitome of trashiness. The haircut has been known by many names throughout history but would forever be known as the mullet after Beastie Boys released a punk rock B-side in 1994 called "Mullet Head."
You're coming off like you're Van Damme
You've got Kenny G, in your Trans Am
You've got names like Billy Ray
Now you sing Hip Hop Hooray
---
Since then, the hairstyle has been so maligned that it's usually only worn with a sense of irony or a complete lack of awareness. However, 11-year-old Allan Baltz of Jonesboro, Arkansas has changed the narrative around the hairstyle, by showing that a mullet head can be a person of not only style, but decency, with his recent charitable act.
In 2013, Allan and his twin sister Alice were in foster care and went to live with Derek and Lesli Baltz of Jonesboro, Arkansas. The children were only supposed to be with them temporarily before being reunited with their parents, but they soon realized it wouldn't be an option.
After living with the family for two years, the twins were adopted by the Baltz's.
"We were really terrified that we weren't good enough parents to keep them forever," Lesli told Southern Living. "So, we really worked through that a lot, and it became obvious that they were meant to be ours whether we felt like we were good enough or not."
During the height of the 2020 lockdowns, Lesli was looking for a way for the family to have fun. So they all began growing strange hairdos. Her husband grew a large mustache. Alice dyed her hair red and Lesli changed hers to teal. But Allan went the craziest by growing out a long, beautiful mullet.
He loved it so much that he took it up a notch by having it permed.
"He thought it was hysterical. It was hideous, and it embarrassed his sister. Everywhere he went, people were like 'Nice hair, man.' He thinks it's the greatest thing, and he really owns it," Lesli said.
Soon friends began to push Allan to enter the 2021 USA Mullet Championships competition. At first, he didn't think he had a chance of winning the contest, but after learning there was a $2500 cash prize for winning the kids division, he was all in. Allan saw the competition as a way to pay it forward and help kids who are in foster care.
"He instantly was like 'Oh, OK. I can do it, and we'll give the money to kids in foster care,'" Lesli said. "He didn't hesitate. He didn't say, 'I can get a bike, then give some money away.' It was just instant that he wanted to give it away."
Allan submitted a photo wearing his father's mountain biking sunglasses and his best suit. Because, let's not forget, a mullet means business in the front. After weeks of campaigning, Allan won a decisive victory, gaining more than 25,000 votes.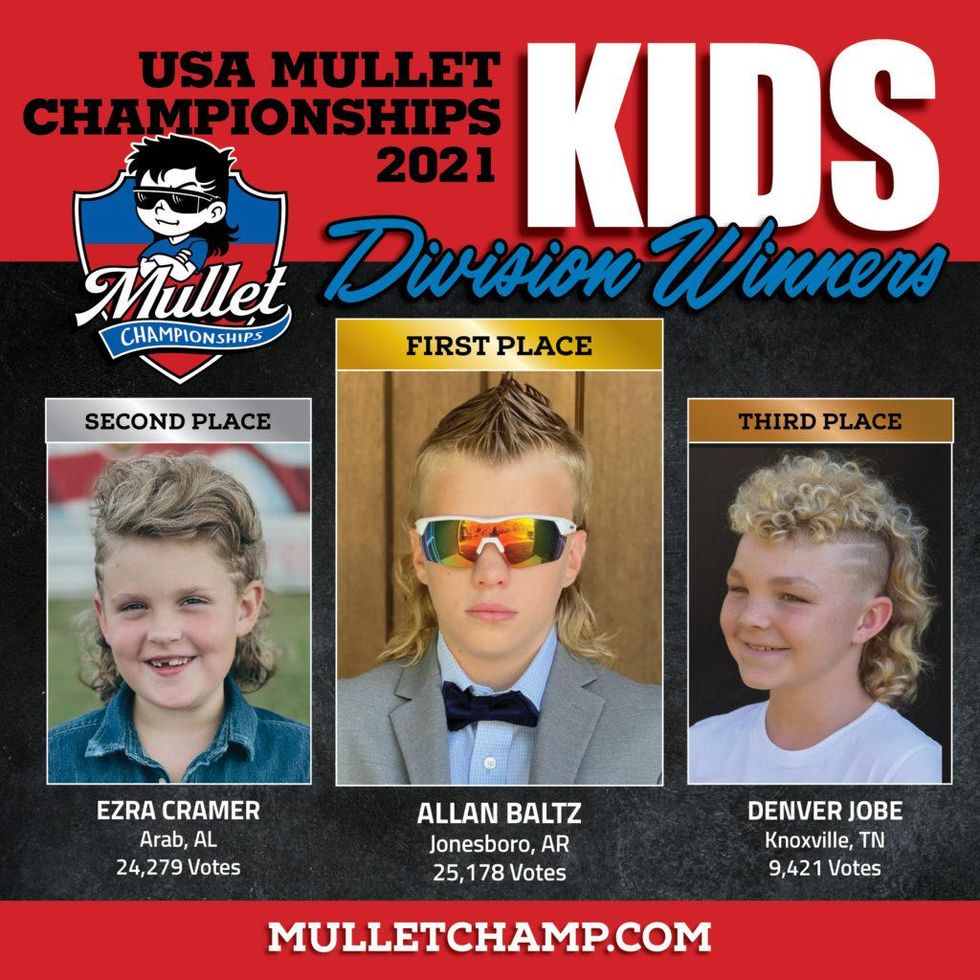 During his campaign, Allan was vocal about what he'd do with the prize money, inspiring others to donate to his two charities, Together We Foster and Project Zero. The campaign and prize money resulted in $7,000 being donated to foster care charities.
"People also started volunteering … and donating clothing, beds, and diapers," Lesli said. "A few people that we know decided to start fostering because of Allan's story. The way that people hear it and it inspires them to do something about the foster care crisis is really incredible. We're just sitting back in awe and hoping that it continues to inspire more people to make a difference."
Allan's generosity has helped countless kids in the foster care system. But he's also done something else that's pretty special. He's brought honor back to the mullet.
From Your Site Articles
Related Articles Around the Web
window.REBELMOUSE_LOWEST_TASKS_QUEUE.push(function(){
function hideBodyForSponsoredPost(el, currentSection) { var sponsoredSections = ["walgreens", "capital one", "capital one csr", "clorox powerful bleach", "clorox clean transforms", "dignity health", "ford foundation", "stand together", "stand together against poverty", "featured"]; if (sponsoredSections.includes(currentSection.toLowerCase())) { el.style.display = 'none'; } }
function hideEmpty( parentId, childId) { var parentDivs = document.getElementsByClassName(parentId);
if(parentId != undefined && parentId != null) { for(var i=0; i { if (event.target && event.target.classList.contains('show-more')) { triggerComscorePageView() } });
urlChangeHandler(triggerComscorePageView);
});
window.REBELMOUSE_LOWEST_TASKS_QUEUE.push(function(){
(function() { try{var a={l1:document.location.host.replace(/^www\./,""),l2:document.title||"Untitled",l3:"__page__",l4:"-",sa:"",sn:""},b=[],c;for(c in a)b.push(c+"="+encodeURIComponent(a[c]));b=b.join("&");(new Image).src="https://d26n2uyu5tcx3y.cloudfront.net?a=5ac31c1640c74c36900b97047f570f19";var d=document.createElement("script");d.type="text/javascript";d.async=!0;var e=document.getElementsByTagName("script")[0];e.parentNode.insertBefore(d,e);d.src="https://z.moatads.com/upworthy105Vonz37/moatcontent.js#"+b}catch(f){try{var g= "//pixel.moatads.com/pixel.gif?e=24&d=data%3Adata%3Adata%3Adata&i=MOATCONTENTABSNIPPET1&ac=1&k="+encodeURIComponent(f)+"&j="+encodeURIComponent(document.referrer)+"&cs="+(new Date).getTime();(new Image).src=g}catch(h){}}; })();
});
window.REBELMOUSE_LOWEST_TASKS_QUEUE.push(function(){
(function(w,d) { w.kwa || (w.kwa = function()
{ (w.kwa.q = w.kwa.q || []).push(arguments); } ); se = d.createElement('script'), fs = d.scripts[0]; se.src="https://cdn.keywee.co/dist/analytics.min.js"; fs.parentNode.insertBefore(se,fs) }(window, document));
kwa('initialize',603);
});
window.REBELMOUSE_LOWEST_TASKS_QUEUE.push(function(){
var tags = [ 'https://pymx5.com/scripts/ready.js', 'https://pymx5.com/scripts/ims.js', 'https://pymx5.com/scripts/load_tags.js' ]
function l() { if (tags.length) { var tag = tags.pop(); var script = document.createElement('script'); script.setAttribute('src', tag); script.onload = l; document.body.appendChild(script); } else { window.ia = window.ia || function () { (window.ia.q = window.ia.q || []).push(arguments); } ; ia('track', 'PAGE_VIEW');
docReady(function() { ims.startServices(); } ); } }
l();
});
window.REBELMOUSE_LOWEST_TASKS_QUEUE.push(function(){
let asd=false function ChangeListener(selector, callback) { var initializedNodes = new Set([]); function onEachNode(node) { if (!initializedNodes.has(node)) { callback(node); initializedNodes.add(node); } } function onDocumentMutation() { var nodes = document.querySelectorAll(selector); nodes.forEach(onEachNode); } var mutationObserver = new MutationObserver(onDocumentMutation); document.querySelectorAll(selector).forEach(onEachNode); mutationObserver.observe(document.body, { childList: true, subtree: true }); }
if(window.innerWidth > 768){
ChangeListener("[id^=upworthy_incontent_dynamic]", function (item) { item.remove()
}); }
});
window.REBELMOUSE_LOWEST_TASKS_QUEUE.push(function(){
function fbvideoID(frame) { var myRegexp = /2F(\d+)%/g; var match = myRegexp.exec(frame); return match[1]; } var fbIframe = document.querySelector('iframe[src^="https://www.facebook.com/plugins/video.php?"]'); if (fbIframe) {fvVidID = fbvideoID(fbIframe.getAttribute('src')); if (fvVidID) { fbIframe.insertAdjacentHTML("beforebegin", '
'); // fbIframe.parentNode.removeChild(fbIframe); } } var videoId = "promoted-video"; var oldFacebookVideo = document.getElementById(videoId); if (!oldFacebookVideo) { return }; var facebookVideoPost = oldFacebookVideo.closest(".widget"); if (!facebookVideoPost) { return };
var facebookVideo = facebookVideoPost.querySelector("#" + videoId); facebookVideo.classList.add("fb-video"); var firstPost = document.querySelector(".widget.post-partial");
function onScriptLoad() { FB.init({ appId: window.REBELMOUSE_BOOTSTRAP_DATA.fbId, version: window.REBELMOUSE_BOOTSTRAP_DATA.fbAppVersion, status: true, cookie: true, }); FB.XFBML.parse(); if(fbIframe){ fbIframe.parentNode.removeChild(fbIframe); } }
function loadFacebookScript() { var existingScript = document.querySelector('script[src="https://connect.facebook.net/en_US/sdk.js"'); if (!existingScript) { var script = document.createElement("script"); script.src = "https://connect.facebook.net/en_US/sdk.js"; document.head.appendChild(script); script.addEventListener("load", onScriptLoad); } }
function intersectorCallback(video_player) { var booted = false; var totalSeconds = 0; var interval = null;
function impressionCounter() { totalSeconds++; console.log("I've been watching for " + totalSeconds + " seconds"); } return function intersector(entries) { var entry = entries[0]; if (entry.isIntersecting) { if (!booted) { booted = true; video_player.mute(); video_player.play(); } interval = setInterval(impressionCounter, 1000); } else { if (interval) { console.log("I've stopped watching at " + totalSeconds + " seconds"); clearInterval(interval); interval = null; } } }; }
function trackVideo(video_player) { var observer = new IntersectionObserver(intersectorCallback(video_player), {}); observer.observe(facebookVideo); }
function onFacebookElementLoaded(msg) { if (msg.type === "video" && msg.id === videoId) { trackVideo(msg.instance); } }
function onFacebookReady() { FB.Event.subscribe("xfbml.ready", onFacebookElementLoaded); if (window.oldFacebookWaiter) window.oldFacebookWaiter(); }
if ("FB" in window) { onFacebookReady(); } else { window.oldFacebookWaiter = window.fbAsyncInit; window.fbAsyncInit = onFacebookReady; loadFacebookScript(); }
});



Source link