Herschel Walker, a Republican Senate candidate from Georgia, suggested that there are a total of 52 U.S. states while denouncing Democratic Georgia gubernatorial candidate Stacey Abrams.
Walker, during a Tuesday interview on conservative podcast The Clay Travis and Buck Sexton Show, urged Abrams to leave Georgia and go to one of the "51 more" states to live in. Abrams controversially called Georgia the "worst state in the country to live" last month. Walker, a former NFL star, said that he found Abrams' remark to be "insulting."
"It was totally insulting," Walker said of Abrams' remarks. "You said it was the worst state that you know of, and yet you're running for office here…. If you want to get this Georgia back together, you want to get this country back together, you've got to vote for the people who believe in this country."
"If you don't believe in the country, leave and go somewhere else," he added. "If it's the worst state, why are you here? Why don't you leave? Go to another—there's what, 51 more other states you can go to, you don't have to be here."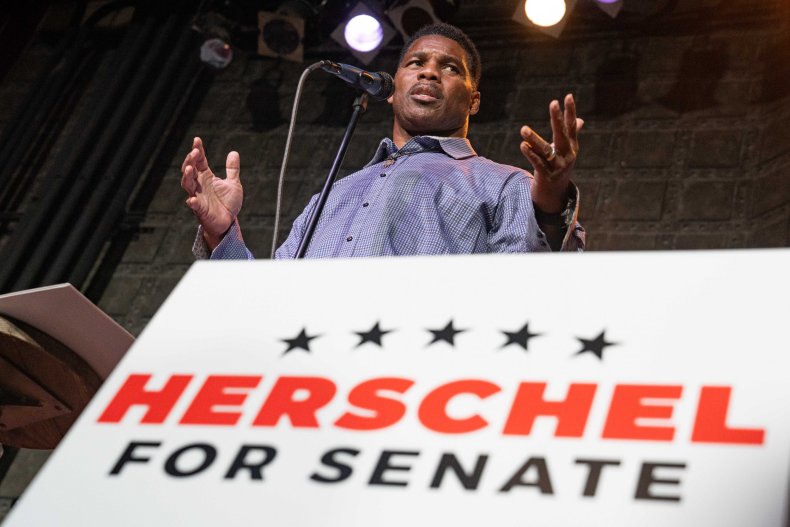 Host Clay Travis followed up Walker's remarks by subtly correcting him on the current number of U.S. states before suggesting that the Republican candidate's inflated count could eventually become a reality.
"Like you said, Stacey Abrams, a lot of other states she could choose to live in," Travis said. "Forty-nine of them. And, uh, maybe the District of Columbia—I know Democrats want to make D.C. and Puerto Rico states."
"So, before they're done, 51, 52, who knows?" he added. "[We] need Herschel Walker in there in the Senate."
Newsweek reached out to the Walker campaign for comment.
Abrams is set for a rematch in November's election with Republican Georgia Governor Brian Kemp, who she narrowly lost to in 2018. Kemp was one of many to lash out at Abrams for calling Georgia the "worst" state.
Abrams later responded to the backlash by saying her comment was made with an "inelegant delivery," arguing that she intended to criticize Kemp for touting Georgia's treatment of businesses while ignoring living and working conditions for residents.
Walker is hoping to unseat incumbent Democratic Senator Raphael Warnock, whose early 2021 election victory alongside fellow Georgia Senator Jon Ossoff handed control of the Senate to Democrats.
Polls suggest a close race between Walker and Warnock. An average of recent polls from RealClearPolitics shows Walker leading by less than 1 percent as of Wednesday. Kemp is faring better, with an average lead over Abrams of around 5 percent.
During Tuesday's podcast appearance, Walker also blasted Abrams and Warnock for failing to appear at an unspecified police banquet that he had recently attended.
"I was at a police banquet," said Walker. "And what was so funny about that, they invited Ms. Abrams and they invited Senator Warnock. Neither one of them showed up. They didn't even show up to support the police."
"We've got to support our men and women in blue," he continued. "And you don't want to support them? … I said, there is a problem, and I want the people of Georgia to know that."
Walker's opponents have recently criticized him for his alleged hypocrisy over having multiple undisclosed children while railing against "fatherless" families in the Black community.
He has also faced criticism for a report alleging that he falsely claimed to be a police officer and an FBI agent, and for falsely claiming to be a graduate of the University of Georgia, a high school valedictorian and the founder of a charity for veterans.