"We share this vision with our partners in the region. Old partners like India and Japan, and more recent partners like Indonesia and Singapore, Vietnam, Malaysia, South Korea, New Zealand and ASEAN, which groups 10 countries in south-east Asia."
Le Drian also used an interview with French newspaper Le Monde before flying to Jakarta to say that while "trust was being re-established" with the US, that was not the case with Australia.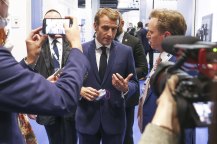 "Things have indeed not moved with Australia, whose Prime Minister is digging in his heels with denial and contradictions," he told Le Monde.
The feud was escalated at the G20 in Rome after Macron was asked by The Sydney Morning Herald and The Age whether he thought Morrison had lied to him over Australia's cancellation of its French submarines deal.
"I don't think, I know", Macron replied.
It was an assertion denied by Morrison, who pointed to text messages between himself and the French leader as evidence that Macron knew the Australian government was looking at an alternative submarines option. However, the leaking of the messages only inflamed the dispute, with France's ambassador to Australia, Jean-Pierre Thebaul, calling it "an unprecedented new low in terms of our privacy, and also in terms of truth and trust".
On Wednesday night, Le Drian said the French government only found out about AUKUS and Australia's new submarine plans via a joint press conference given by Morrison, US President Joe Biden and British Prime Minister Boris Johnson.
"It came out of the blue," he said. "It's not correct."
He also suggested the establishment of AUKUS and the rhetoric surrounding it risked a confrontation and questioned the transfer of nuclear technology to Australia under the deal with the US and UK, who are two of the five permanent members of the United Nations Security Council.
"Until now none of these five countries transferred to any country nuclear technology to power submarines," he said. "So if tomorrow Australia has some nuclear-powered submarines, why not some other countries? Indonesia, why not?
"This technology is not covered by the [nuclear weapons] non-proliferation treaty. Nonetheless, it is a trend which is of concern."
Le Drian's south-east Asia visit came with France and Indonesia themselves in discussions about the sale of 36 Rafale fighter jets to Jakarta. He met with Indonesia Defence Minister Prabowo Subianto before speaking on Wednesday with his counterpart Retno Marsudi, with whom he signed a five-year plan of action and agreed to begin annual 2+2 meetings between both sets of foreign and defence ministers from next year.
Loading
In a joint press briefing with Retno, Le Drian said France wanted to strengthen defence and maritime co-operation with Indonesia.
"It is a relationship of solidarity and cooperation in the context of the upheaval that we see all around the world," Le Drian said.
Having already donated 3.7 million COVID-19 vaccine doses to Indonesia, he announced Paris would commit €500 million ($780 million) in investment in the south-east Asian nation's transition to renewable energy sources and double the number of scholarships for Indonesian students to attend French universities.
Ben Bland, the director of the Lowy Institute's south-east Asia program, said France was "keen to show that it is still committed to the region despite the deterioration of its relationship with Australia".
"In the medium term, once French anger over the aborted submarine program subsides, it is in the interests of both France and Australia to co-operate in the Indo-Pacific, where both countries have much at stake," he said.
"From Indonesia's perspective, it is happy to work with any partners who will help it meet its economic and strategic objectives."
Le Drian was also meeting with ASEAN Secretary-General Dato Lim Jock Hoi while in Jakarta.
Indonesia will take over the G20 presidency in 2022.
Get a note directly from our foreign correspondents on what's making headlines around the world. Sign up for the weekly What in the World newsletter here.