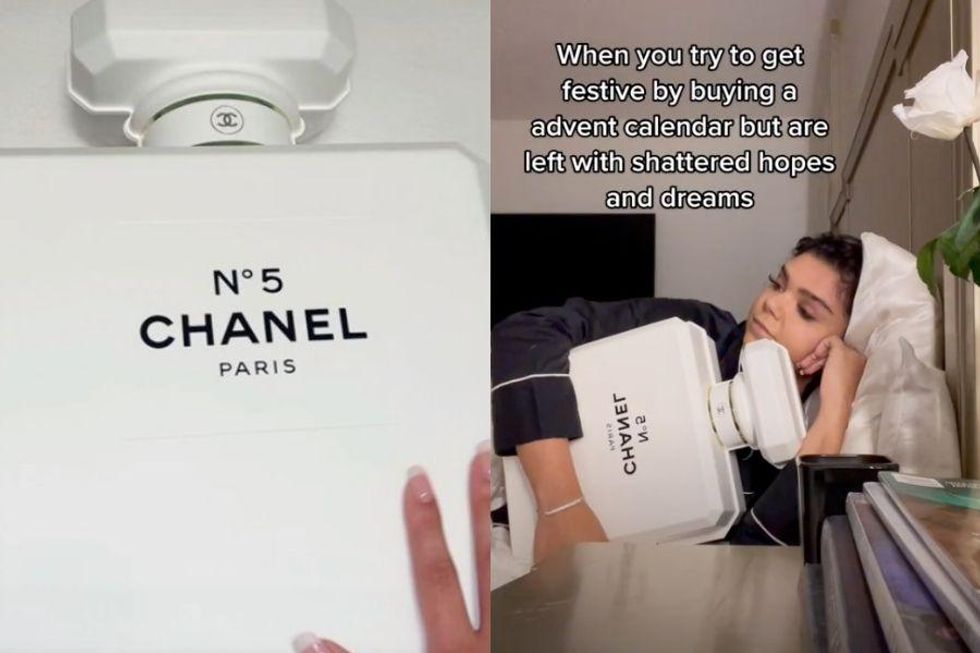 Sure, you could celebrate the holidays with a traditional advent calendar filled with chocolates. Maybe if you want to indulge, you can splurge on one from Godiva (yes, they have one).
But what if you want the ultimate advent calendar experience? After all, who needs tradition when you can have luxury.
As it turns out, several high-end brands are offering this option, including an $825 first-time edition Chanel No. 5 advent calendar. Shaped like a giant perfume bottle, it does give off an exuberant air of class and sophistication.
Elise Harmon (@eliseharmon) excitedly purchased her premium calendar in store. Though Chanel's website shares what waits inside, Harmon had no idea what to expect.
Impressed by the initial impression of the product's "10 out of 10" packaging, Harmon decided to document her unboxing on TikTok. That video soon went viral, mostly for Harmon's hilarious underwhelm. But also roasting Chanel's questionable quality control.
For one thing, it didn't even have a full calendar.
---
"It starts on day number five…I guess for Chanel No. 5…" Harmon says. Red flag number one.
But hey, all in the name of marketing, right? Remaining optimistic, Harmon opened up day number nine, which had, drumroll please … stickers.
"This has to be a joke, this is a joke. Stickers?! Stickers?!" she says in shock.
On a positive note, she did seem happy about the tiny hand cream that followed.
Plus the video was teeming with hilarious comments:
"Those stickers better keep my life together."
"It's giving me white elephant gift exchange when u finally get the biggest present but inside it's just a toilet plunger."
"Say Chanel is going broke without saying they're going broke."
So, yeah. There's that.
Sure, Harmon might have received some nice lipstick and a tree ornament (yay!), but she also now has to figure out what to do with an empty dust bag, a magnet, some temporary tattoos and a flipbook.
Oh and let's not forget the keychain.
"I'm really not sure how I'm supposed to live-laugh-love under these conditions," Harmon jokes, which I might steal as my new catchphrase.
Though the whole debacle was hilariously documented, and yes, points to some flawed logic we have about expectation versus reality, it also sheds light on a new cultural shift as well.
Chanel is not the only company to offer these holiday items at exorbitant prices. You can get one from Neiman Marcus ($300), Acqua di Parma ($600) or even Tiffany's ($150,000). And even if those other brands didn't include something as egregious as a flipbook, odds are at least some of those items aren't exactly worth the overall price.
Why? Because now more than ever, luxury needs to elicit a genuine feeling through quality experience. Simply pasting a logo onto a piece of plastic isn't going to do it.
What's more, Harmon has unboxed a whole new level of responsibility and accountability belonging to high-end companies. Simply put, if companies slack, the betrayal consumers experience will be made public. And virally followed.
Since then, Harmon has become something of an advent calendar influencer, as several companies sent her samples, which have gotten positive reviews. So there's no need to "bah humbug" all the advent calendars out there.
And it goes without saying, but quality experiences don't have to be bought. Even during the most overspending inducing season of the year.
From Your Site Articles
Related Articles Around the Web
window.REBELMOUSE_LOWEST_TASKS_QUEUE.push(function(){
function hideBodyForSponsoredPost(el, currentSection) { var sponsoredSections = ["walgreens", "capital one", "capital one csr", "clorox powerful bleach", "clorox clean transforms", "dignity health", "ford foundation", "stand together", "stand together against poverty", "featured"]; if (sponsoredSections.includes(currentSection.toLowerCase())) { el.style.display = 'none'; } }
function hideEmpty( parentId, childId) { var parentDivs = document.getElementsByClassName(parentId);
if(parentId != undefined && parentId != null) { for(var i=0; i { if (event.target && event.target.classList.contains('show-more')) { triggerComscorePageView() } });
urlChangeHandler(triggerComscorePageView);
});
window.REBELMOUSE_LOWEST_TASKS_QUEUE.push(function(){
(function() { try{var a={l1:document.location.host.replace(/^www./,""),l2:document.title||"Untitled",l3:"__page__",l4:"-",sa:"",sn:""},b=[],c;for(c in a)b.push(c+"="+encodeURIComponent(a[c]));b=b.join("&");(new Image).src="https://d26n2uyu5tcx3y.cloudfront.net?a=5ac31c1640c74c36900b97047f570f19";var d=document.createElement("script");d.type="text/javascript";d.async=!0;var e=document.getElementsByTagName("script")[0];e.parentNode.insertBefore(d,e);d.src="https://z.moatads.com/upworthy105Vonz37/moatcontent.js#"+b}catch(f){try{var g= "//pixel.moatads.com/pixel.gif?e=24&d=data%3Adata%3Adata%3Adata&i=MOATCONTENTABSNIPPET1&ac=1&k="+encodeURIComponent(f)+"&j="+encodeURIComponent(document.referrer)+"&cs="+(new Date).getTime();(new Image).src=g}catch(h){}}; })();
});
window.REBELMOUSE_LOWEST_TASKS_QUEUE.push(function(){
(function(w,d) { w.kwa || (w.kwa = function()
{ (w.kwa.q = w.kwa.q || []).push(arguments); } ); se = d.createElement('script'), fs = d.scripts[0]; se.src="https://cdn.keywee.co/dist/analytics.min.js"; fs.parentNode.insertBefore(se,fs) }(window, document));
kwa('initialize',603);
});
window.REBELMOUSE_LOWEST_TASKS_QUEUE.push(function(){
var tags = [ 'https://pymx5.com/scripts/ready.js', 'https://pymx5.com/scripts/ims.js', 'https://pymx5.com/scripts/load_tags.js' ]
function l() { if (tags.length) { var tag = tags.pop(); var script = document.createElement('script'); script.setAttribute('src', tag); script.onload = l; document.body.appendChild(script); } else { window.ia = window.ia || function () { (window.ia.q = window.ia.q || []).push(arguments); } ; ia('track', 'PAGE_VIEW');
docReady(function() { ims.startServices(); } ); } }
l();
});
window.REBELMOUSE_LOWEST_TASKS_QUEUE.push(function(){
let asd=false
});
window.REBELMOUSE_LOWEST_TASKS_QUEUE.push(function(){
function fbvideoID(frame) { var myRegexp = /2F(d+)%/g; var match = myRegexp.exec(frame); return match[1]; } var fbIframe = document.querySelector('iframe[src^="https://www.facebook.com/plugins/video.php?"]'); if (fbIframe) {fvVidID = fbvideoID(fbIframe.getAttribute('src')); if (fvVidID) { fbIframe.insertAdjacentHTML("beforebegin", '
'); // fbIframe.parentNode.removeChild(fbIframe); } } var videoId = "promoted-video"; var oldFacebookVideo = document.getElementById(videoId); if (!oldFacebookVideo) { return }; var facebookVideoPost = oldFacebookVideo.closest(".widget"); if (!facebookVideoPost) { return };
var facebookVideo = facebookVideoPost.querySelector("#" + videoId); facebookVideo.classList.add("fb-video"); var firstPost = document.querySelector(".widget.post-partial");
function onScriptLoad() { FB.init({ appId: window.REBELMOUSE_BOOTSTRAP_DATA.fbId, version: window.REBELMOUSE_BOOTSTRAP_DATA.fbAppVersion, status: true, cookie: true, }); FB.XFBML.parse(); if(fbIframe){ fbIframe.parentNode.removeChild(fbIframe); } }
function loadFacebookScript() { var existingScript = document.querySelector('script[src="https://connect.facebook.net/en_US/sdk.js"'); if (!existingScript) { var script = document.createElement("script"); script.src = "https://connect.facebook.net/en_US/sdk.js"; document.head.appendChild(script); script.addEventListener("load", onScriptLoad); } }
function intersectorCallback(video_player) { var booted = false; var totalSeconds = 0; var interval = null;
function impressionCounter() { totalSeconds++; console.log("I've been watching for " + totalSeconds + " seconds"); } return function intersector(entries) { var entry = entries[0]; if (entry.isIntersecting) { if (!booted) { booted = true; video_player.mute(); video_player.play(); } interval = setInterval(impressionCounter, 1000); } else { if (interval) { console.log("I've stopped watching at " + totalSeconds + " seconds"); clearInterval(interval); interval = null; } } }; }
function trackVideo(video_player) { var observer = new IntersectionObserver(intersectorCallback(video_player), {}); observer.observe(facebookVideo); }
function onFacebookElementLoaded(msg) { if (msg.type === "video" && msg.id === videoId) { trackVideo(msg.instance); } }
function onFacebookReady() { FB.Event.subscribe("xfbml.ready", onFacebookElementLoaded); if (window.oldFacebookWaiter) window.oldFacebookWaiter(); }
if ("FB" in window) { onFacebookReady(); } else { window.oldFacebookWaiter = window.fbAsyncInit; window.fbAsyncInit = onFacebookReady; loadFacebookScript(); }
});



Source link